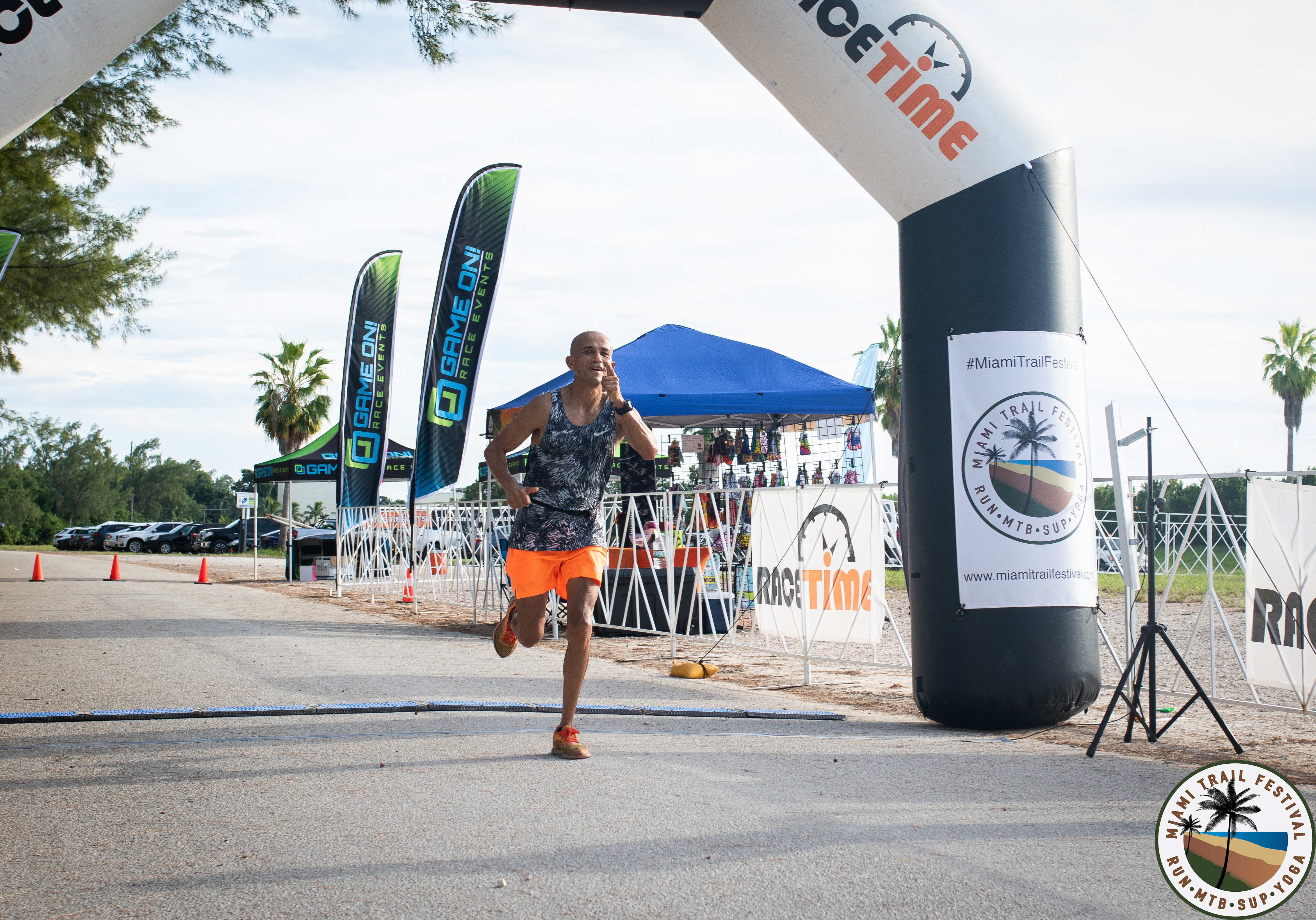 Running in Miami
by Team RaceTime
31 July, 2019
My running journey starting in Tamiami Park in Miami in 1996. I began playing baseball in 1996 on a little league team. I wasn't the biggest, the strongest, or the fastest . . . but I was way closer to being the fastest than the biggest or strongest. For me, running was my favorite part of baseball. I played throughout my teenage years until I reached high school and failed to make the team due to not being big or strong. Then all the running I was enjoying on the diamond turned into the road and ran my first Half Marathon in 2010. My first race ever – ING Miami Half Marathon.
The first ever true endurance running was during training for the Half Marathon. I just ran throughout the neighborhood streets and never imagined of going elsewhere. It wasn't until after coming back to Miami from UCF was when I began exploring all the places Miami has to offer for amazing running. Ranging from the East Coast to the West Coast of Miami, here are the some great options for running and walking.
Everglades Levee on 8th Street
When driving West on US 41 (SW 8th Street), just passed the Miccosukee Casino, the Everglades Basin and the River of Grass begins. The levee separating the marsh of the Everglades and the concrete side of Miami-Dade County provides an amazing opportunity to run off road on hard pack sand and rocks with an amazing view to the River of Grass.
It is possible to even run up to Broward County without crossing one intersection. Great ultra marathon training grounds, please do not attempt alone. A pacer and helper on a gravel/mountain bike would be perfect. Please only do this if you are properly trained. The entrance to the L30 Trail is located at 25.761053, -80.502397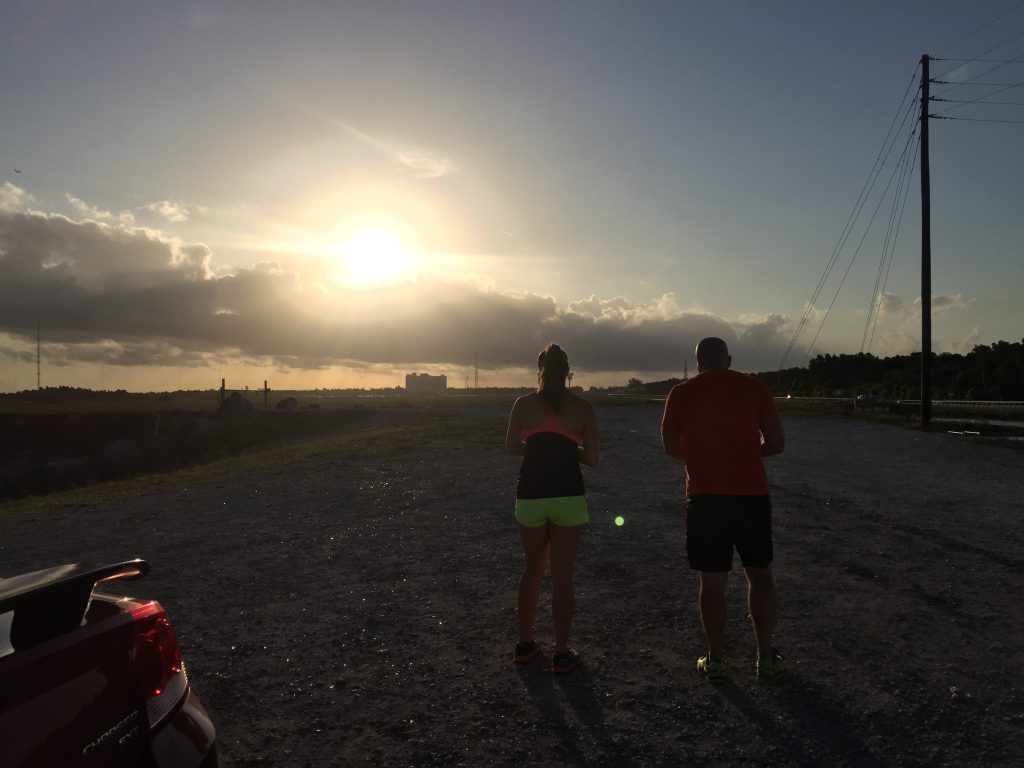 Key Biscayne
Plenty of views and running paths in Key Biscayne where you'll find most of Miami's endurance athletes on any given Saturday or Sunday morning. Lots of group runs and rides use Key Biscayne as a destination and meetup spot. There's plenty of parking lots after you pass the Rickenbacker Causeway toll plaza. This place has everything a runner needs: 8 mile long paved running path with water stops and restrooms, a large bridge for 'hill' repeats, and the ocean for a cool down swim after a great run. The iconic William Powell bridge is located @25.746388, -80.184986
Pinecrest
The most beautiful suburban place in Miami is Pinecrest. Full of shaded trees and gorgeously built homes, there is always something to awe about with a little less heat. You can start your run from Pinecrest Gardens and go South on the Red Road Linear Park which is 2.5 Miles long. A little known secret is on the eastern side of Pinecrest and just West of Matheson Hammock Park (pictured below), you may even find a nice nature trail which is great to run through. This trail has no official name expect "nature trail" on a sign but it feels nice to be surrounded by only trees before you finish on Old Cutler Road. @25.6823514,-80.2773994
Since 2017, we have been working alongside Special Olympics as race directors and timers for a race through the streets of Pinecrest, the Sponsor an Athlete 5K. I believe it is the only race that uses those streets.
"The Circle"
Where Old Cutler Road and Cocoplum Road meet, runners parked their cars before the sun rises every Saturday morning along the Cocoplum Plaza Circle, or The Circle for short. With great paths heading South down Old Cutler Road, or heading North towards Coconut Grove through older City of Miami neighborhoods and even connecting to Key Biscayne for long miles, run routes are plentiful. The blend of neighborhoods to metropolitan areas to ocean side running is why this running spot is a hub for Miami runners. Plus, there's plenty of water as Team Footworks has been providing free water for local runners for many years now!
Also, there are bronze shoes in the middle which is very fitting. Join the runner community at the circle @25.705397, -80.260913
Virginia Key Trails
Built for Mountain Biking, but great for a more than rugged trail run. With the most varied elevation change in Miami, the North Point Trails at Virginia Key are a hidden treasure for those who want to get away from city but not have to drive so far. Using the trail, just follow the signs to stay on course and stay alert for fellow mountain bikers. It has no water stations inside, so bring a water bottle with you during your run. Trail shoes are recommended as your regular running shoes may get excess wear due to the limestone. Trail entrance is located @25.751551, -80.146784
There are great rest points with picnic tables throughout the trail. You will also find a couple unique views of Downtown Miami and Miami Beach at these rest point. The creators and maintainers of this Mountain Bike Trail is the Virginia Key Bicycle Club. Support them here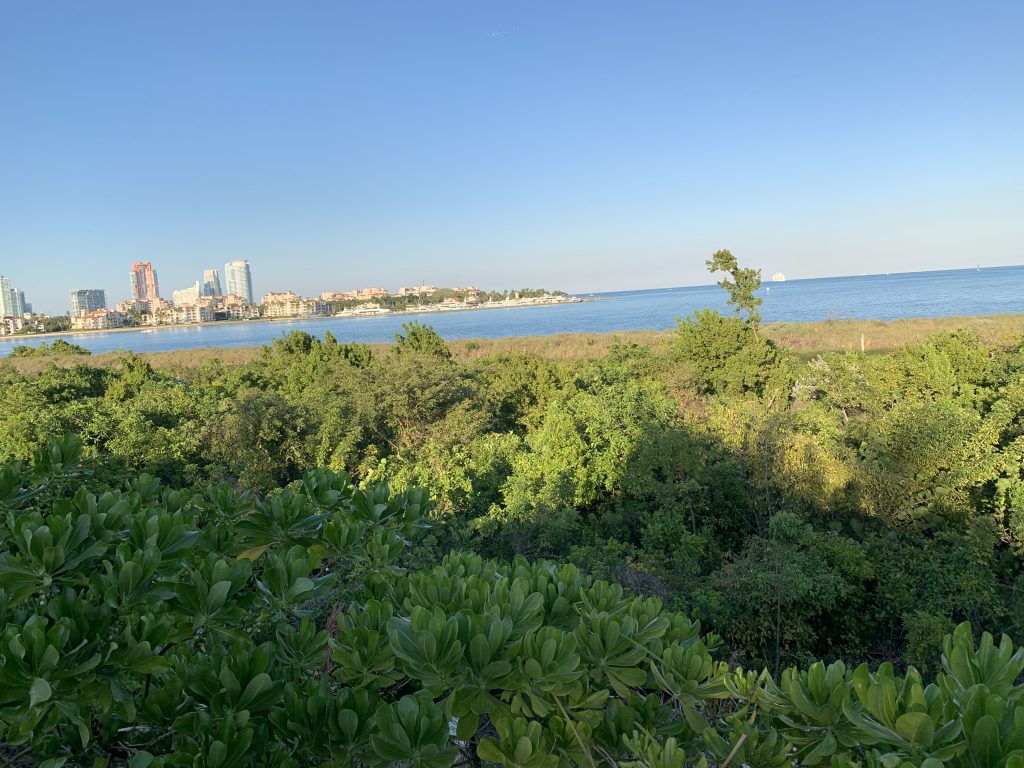 JUST WALK OUTSIDE YOUR DOOR!
Head out in any direction and explore your surroundings, you may be surprised in what you find.
Keep Running,
Ruben Figueredo Jr