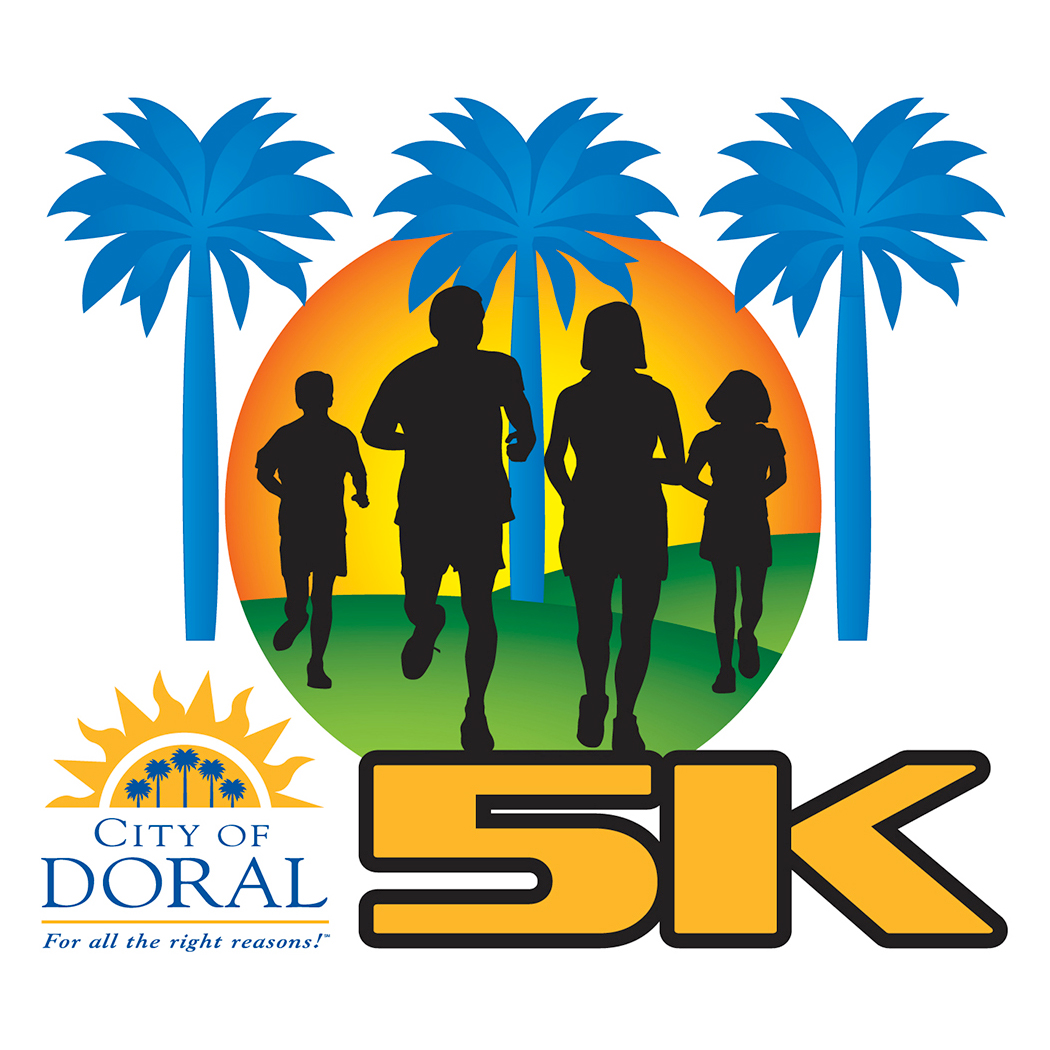 RACE COURSE
The Doral 5K, presented by Jackson Health System, is a certified 5K (3.1 miles) Run/Walk through the heart of the City of Doral. Our new Race Course begins at the entrance of Doral Meadow Park (11555 NW 58 Street) heading west on NW 58 St. to NW 117 Ave., south to NW 41 Ter. where a U-turn is made back to NW 50 St.. Racers will then head east to NW 112 and then turn back to NW 117 Ave. in order to head north towards the finish line in front of Doral Meadow Park.
*Race course measured and certified by Donald Matuszak.
DIRECTIONS TO RACE SITE
Palmetto Expressway (SR-826): Exit NW 58th St. (west).
Florida's Turnpike: Exit NW 74th St. (east). Turn right onto NW 114th Ave. Turn right onto NW 58th St. Doral Meadow Park will be on the right side.
TIME
Race Day Registration 5:30 AM – 7:00 AM
5K Run/Walk 7:30 AM
ENTRY FEE
Early Registration: Today – January 31
Regular Registration: February 1 – March 8
Last Call Registration: March 9 – March 14
Race Day Registration:
Credit Card Payments Only.
No refunds or transfers.
GROUP DISCOUNT
A 15% discount will be given to groups of 10 or more participants that register as a group. To get your personalized group code, email Ashley.Barcena@cityofdoral.com. All group participants must register at the same time to qualify for the discount. Group discounts DO NOT APPLY to Race Day Registrations.
HOW TO REGISTER
Online: Register online
In Person: Register in person at the Morgan Levy Park Community Center – 5300 NW 102 Ave.
Service charge fee will apply to payments with credit card.
5K AGE GROUPS
Male/Female: 8/under, 9-10, 11-12, 13-14, 15-19, 20-24, 25-29, 30-34, 35-39, 40-44, 45-49, 50-54, 55-59, 60-64, 65-69, 70-74, 75/over
AWARDS
Largest Group or Team
Top Three Overall Male & Female
Top Male & Female Doral Resident
Top Three Male & Female in Each Division
SPECIAL CATEGORIES
Top Overall: • Police Officer/ Firefighter • Military • Special Needs • Adaptive Athlete
T-SHIRTS
T-shirts to the first 900 registered participants. (Race day registrants not guaranteed a shirt or correct size.)
PACKET PICKUP
PACKET PICKUP
Thursday, March 14, 2018 – 10 a.m. to 7 p.m.
Friday, March 15, 2018 – 10 a.m. to 7 p.m
Remember to bring a picture ID. If you need to have someone else pick up your packet, you must provide them with a copy of your photo ID and bib number.
Packet pickup will be at Runners Co. Doral located at 10365 NW 41st St, Doral, FL 33178
REFRESHMENTS
A variety of food and beverages will be available to participants at the event. (While supplies last.)
PARKING
Doral Meadow Park parking lot will be available to the public until 6:30 AM. Additional parking will be available at Eugenia B. Thomas Elementary School (5950 NW 114th Ave.) Please check our website for updates on street closures.
LIVE TIMING AND SCORING
RaceTime will be the official timers, powered by MACSHA. Your race number has the MT-NUMBER chip attached to the back. Pin your race number on the front of your shirt only. Results will be streaming live on-site and online.
Scoring will be based on net time, the difference of time recorded from crossing the starting line to the finish line.
HEAT WARNING
Temperatures/humidity can be high in South Florida. Participants should drink plenty of fluids (non-alcoholic) for 48 hours prior to, during and upon finishing the race. Beware of heat-injury symptoms (dizziness, no sweating, nausea, cramps, redness, incoherent speech, and thoughts). Seek immediate assistance if symptoms occur. Wear loose, light-colored clothing.
STEP UP YOUR HEALTH, DORAL!
Mayor Juan Carlos Bermudez invites residents and members of the community to join the "Step Up Your Health, Doral" Wellness Initiative!
Download the Step Up App in your App Store and get started today!
Details
Starts On
March 16, 2019 - 7:30 am
Event Categories