---
State-of-the-Art-Timing & Results
RaceTime provides industry leading state-of-the-art timing solutions using the latest in RFID and cloud-based technologies. RaceTime operators provides a better operational experience for your event, by reducing the number of volunteers required to work on your event. Results are always in real-time both for the organizers and event participants.  Once the race/event is finalized the results are provided as the last participant finishes, the results are posted immediately on the internet. Our registration and results kiosks is available for participants to self-serv registration, pre-race check-in as well as post-race result scan for their results. Take participant engagement to a whole new level with real-time results postings with results notification via social-media applications.
Race Management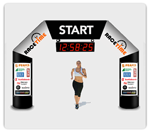 We can provide full service including completely producing your race; timing your event; managing race day activities; inflatable arch for start, finish, or intermediate points; 8 foot aluminum truss system; LED race clocks; top 3 award podium; selection and design of the course; course marking and setup for all distances using arrow signs, turnaround signs, mile markers; advice on how best to advertise your event; providing T-shirts, technical t-shirts, trophies, medals, raffle prizes; announcing and providing music for your race; photography; designing and hosting race websites; designing race logos; setting up and managing online registration; and much more.
Online Registration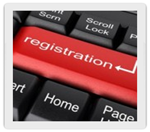 We offer an online registration platform powered by
HAKU
, where participants register for your event with an easy and secure solution, all while paying less than other registration providers. As part of their service, They will set-up your registration and provide you with complete access. This registration solution provides custom branded forms, corporate sponsorship support, race limits, coupons, donations, custom questions, products, email tools and much more.  If you already have a preferred registration service provider, we can work with them as well.
Race Goodies
Creating packets for participants is now easier than ever. RaceTime has created the perfect solution with a one-stop-shop for race organizers. We can pack your goody bags with t shirts, sponsor flyers, product samples, wearables, water bottles, personal first aid kits, lip balms, sunscreens, and many more participant goodies with multiple bag options. Race Goodies are delivered at least 10 days before your packet pickup date.
Inflatable Arch Rental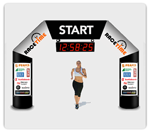 Make your finish line stand out in a crowd with our inexpensive inflatable finish line arches. Arch rentals cost as little as $250 and include delivery, set-up and take down, and a generator for power if not available at the site.  We use quiet generators, so no need to worry about noise.  You can provide your own banners, which is a great way to promote your sponsors and increase race revenues.